Friends and family members of Devonte Ortiz gather on Friday, July 6, 2018, at Pleasant Hills Apartments in Austin, Texas. Witnesses say Ortiz' neighbor Jason Roche fatally shot 19-year-old Ortiz in the early hours of July 4 in a dispute about fireworks.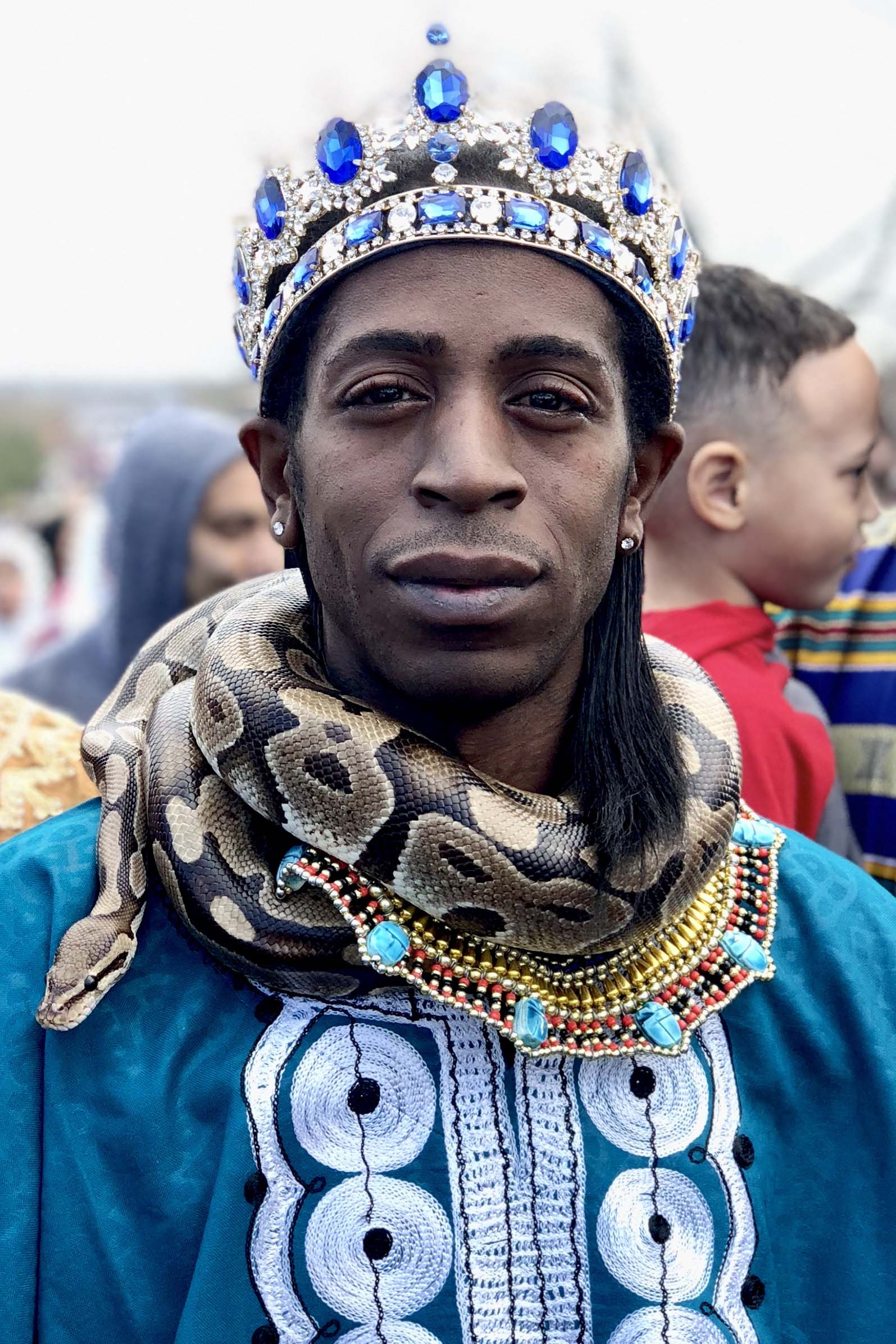 Surrounded by family, Pharaoh Clark and his pet snake, also named Pharaoh, participate in the 50th annual Martin Luther King Day march in San Antonio, Texas, on January 15, 2018.
Savanna Garcia, 16, calls her father during her baby shower on April 15, 2018. Like many other pregnant teenagers in San Antonio, Garcia has relied on a makeshift sisterhood of support throughout her pregnancy because the men in Garcia's life are unreliable or not present. The teen pregnancy rate in the city is 40 percent above the national average.
Kagan Kim washes his hands clean at the donation-based, nonprofit Comfort Cafe in Smithville, Texas, on Friday, Nov. 30, 2018. The cafe is staffed by individuals recovering from substance abuse at the nearby SerenityStar recovery center. Kim lives at the center with his partner and infant son.
Comfort Cafe co-founder Rosalinda Lopez hangs out in the back patio of at the donation-based, nonprofit cafe in Smithville, Texas, on Friday, Nov. 30, 2018. The cafe is staffed by individuals recovering from substance abuse at the nearby SerenityStar Recovery center. "It's peer-to-peer, one addict helping another," Lopez said. "We teach that sobriety is not about getting it, it's about keeping it."
Spectators on Lady Bird Lake take photos of the nearly 20,000 rubber ducks dumped from the Ann W. Richards Congress Avenue Bridge into the lake as part of the 5th Annual Austin Duck Derby on Saturday, Aug. 4, 2018, in Austin, Texas.
The members of the Junior Olympics team at Ramos Boxing complete a workout routine on April 12, 2017 in San Antonio, Texas. The athletes undergo an intensive training regimen designed in preparation for the South Texas Junior Olympic Championships in Laredo, Texas.
Teresa de la Zoya's grandchild, Ashlee, has scars and open wounds on her feet from frequently playing outdoors without shoes on. Teresa and her six grandchildren live with her in a dilapidated mobile home in a South Texas colonia — a type of informal settlement that floods often and lacks a combination of electricity, paved roads, water and sewage systems.
Brycen, 5, looks up at his father following the Church of Christ at East Side's annual Father's Day celebration on Sunday, June 17, 2018. The celebration concludes with a group photo that the church minister, George Williams, says is "a testimony to the reality that we have men who are doing it right."
Members of the Travis High School community in Austin, Texas, gather on July 6, 2018, before a vigil to honor the memory of 19-year-old Devonte Ortiz. Witnesses say Ortiz was fatally shot by a neighbor after a fireworks dispute in the early morning of July 4.
Jonathan Salas and Daisy Escamilla lay down on the Vic Mathias Shores lawn before the H-E-B Austin Symphony July 4th Concert & Fireworks celebration on Wednesday.
Richard Mata, 54, attends weekly physical therapy appointments to strengthen the muscles in his legs after an accident left him paralyzed from the waist down.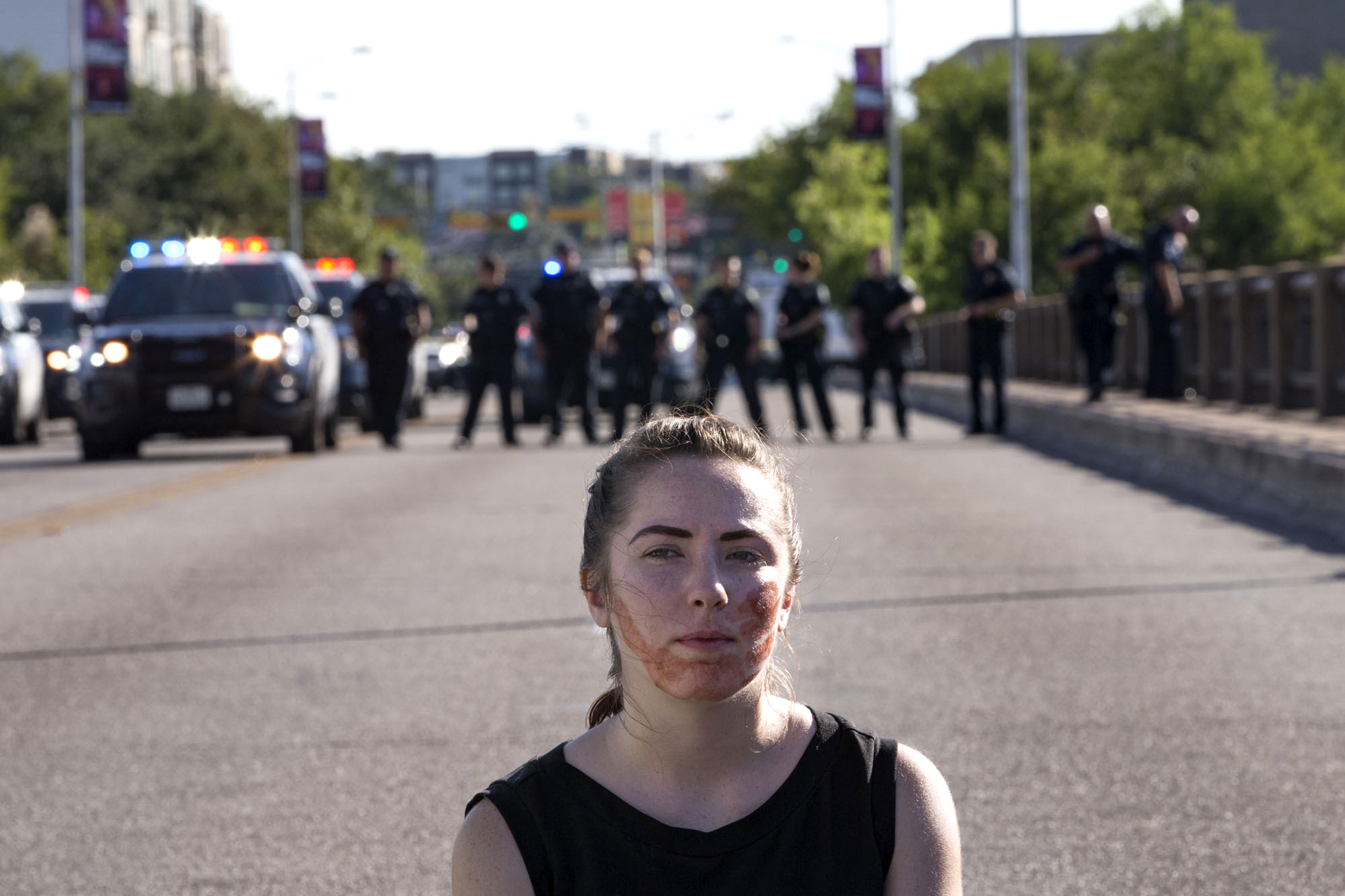 Marina Roberts sits with other protesters on the Lamar Street bridge in Austin, Texas, in reaction to the U.S. Senate confirmation of Judge Brett Kavanaugh to the Supreme Court on Saturday, Oct. 6, 2018.
Volunteer Patrick Crowley and fellow volunteers search for homeless individuals on Jan. 27, 2018, during the annual "Point in Time Count of the Homeless" mandated by the U.S. Department of Housing and Urban Development.
Purvis Lewis, pushed by Eric Lopez, shakes hands with Manuel Olguin to thank him after receiving a free fleece sweater on Friday, Dec. 14, 2018, as part of the Red Sweater Project. The project, created in partnership between the Cielo Property Group and Livsn Designs, is part of a $1 million commitment to solving homelessness in Austin. According to the city's annual "Point-In-Time" count, at least 2,000 people in Austin currently experience homelessness on any given night.
Members of the Texas African Students Organization at The University of Texas prepare their hair and makeup for the annual Fest Africa cultural showcase on Oct. 20, 2017.
Savanna Garcia, 16, shows her special manicure that she received for her baby shower in April 2018 in San Antonio, Texas. San Antonio has a teen pregnancy rate 40 percent above the national average, and teenagers who become pregnant create nonconforming social support networks in preparation for becoming mothers.
Kira Roberts, 8, packs up her belongings from her mother's home at The Reserve at Springdale apartment complex. Robert's mom, Robin McGee, was ordered to evict after a continued dispute with apartment management.
Ayanna Lewis holds a younger relative at the mural unveiling at 12th and Chicon streets in East Austin, Texas, on Feb. 17, 2018. The mural replaced the previous one that honored mostly black musicians after it was painted over by the new owners of the building.